Our History
Since the late nineteenth century, hot springs resorts have been very fashionable in this country. "Taking the cure" is a custom which many people of foreign extraction brought over with them from the old country. Europeans have for centuries had great faith in the curative properties of thermal spring water; great spas can be found all over Europe, and have retained their popularity to this day. The cure often consisted of daily soaks in hot pools, additional therapy through the application of hot mud from the area, and many glasses of spring water guzzled internally for whatever good works would be wrought by its benevolent minerals.
1849
The spring is used in its natural state by Washoe Indians and emigrants and settlers, some of whom are making their way to the California Gold Rush.
1880
Thomas Swift purchases and renames it "Swift's Hot Springs". Swift builds bathhouses, a clubhouse, and a hotel with rates of $10 to $14 per week.
1882
James Shaw purchases the springs and facilities and renames it "Shaw's Warm Springs".
1890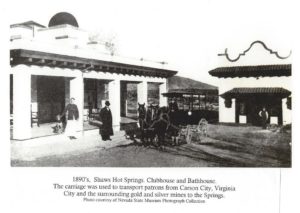 Shaw builds a "plunge", called the largest in the state.
1895
The resort begins bottling and selling a "new Mineral Water".
1896
The resort gains new status as opera star Miss Gracie stays at the resort.
1897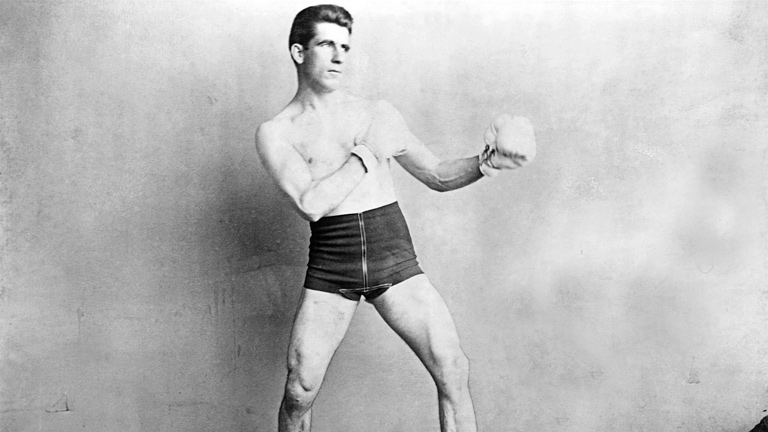 Gentleman Jim Corbett, a renowned professional prizefighter, trains and fights here.
1910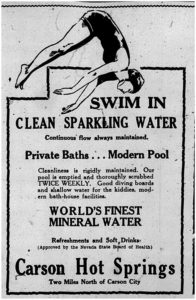 The springs receives the name it still holds today – Carson Hot Springs. A road is completed between the city and the resort. It continues to receive praise for having the finest water available.
1921
Prohibition is in effect. The spring is raided by a Federal Officer in hopes of uncovering a still.
1930s - 1940s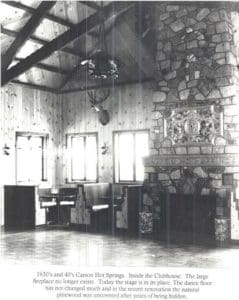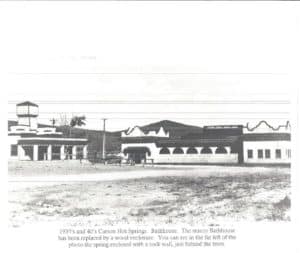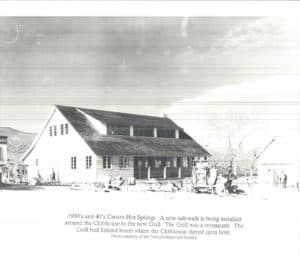 The resort becomes a popular place for dancing to the sounds of the Big Bands.
1950s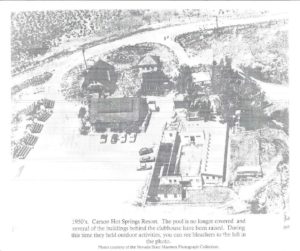 1962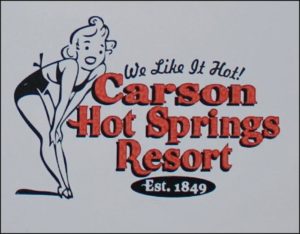 Don Richard Langson purchases the springs and resort.
1978
Richard and Michele continue to own and operate Carson Hot Springs.
1979
The historical restaurant and bar are renovated.
1980
Water therapy and exercise programs begin.
1988
A new product is introduced, Sierra Mist Spring Water, in convenient 1 1/2-liter sizes to compliment the existing line of 2 1/2-liter and 1-gallon sizes of Hot Springs Water.
1999
A group of investors headed by Mark Begich of Anchorage, Alaska, purchase the springs with the goal of bringing it back to its glory days. Improvements include addition of 2 small Jacuzzi spas, remodeled restrooms and dressing rooms and remodeled soaking tubs.
2015
New restaurant, Sassafras bar and grill and a brand new micro brewery, The Show Tree Brewery.
Carson City is the hub of Northern Nevada
Carson City, Nevada boasts an array of outdoor adventures, fine restaurants, challenging golf courses, historical attractions, museums, gaming opportunities and a plethora of events and entertainment. Visitors will find plenty of exciting activities and experiences to choose from. The heart of the action–Carson City is nestled just minutes from world famous Lake Tahoe, electrifying Reno, historic Virginia City and the majestic Sierra Nevada mountain range.
Carson City statistics:
population is 51,000
approximately 153 square miles in area
less than a 30-minute drive to Reno, Virginia City, Lake Tahoe and many other historical areas
average rainfall is 11 inches, average snowfall is 22 inches
4,687 feet above sea level

Open Daily, 8:00 AM - 9:00 PM
Phone:
Toll-free: 888-917-3711
Local: 775-885-8844
E-mail:
Staff@CarsonHotSprings.com
Physical Address:
1500 Old Hot Springs Road
Carson City, Nevada 89706