Our 2 Hour Rates
Hot Springs Outdoor Pools – Outdoor Pool & Patio
Adults/General – $17 per person
Seniors – $15 per person
Kids – $15 per person
Infants – $7.50 per person
Hot Springs Private Indoor Pools + Outdoor Pools
Adults/General – $30 per person
Seniors – $27 per person
Kids – $20 per person
Infants – $10 per person
*This admission also includes outdoor pools 
Discounts and Swim Cards Available
10 Visit Swim Card (Adults) – $140
10 Visit Swim Card (Seniors/Kids) – $120
100 Visit Swim Card (Adults) – $1000
100 Visit Swim Card (Seniors/Kids) – $900
* Adults/General: Ages 12 – 54
* Seniors: Ages 55 and older 
* Kids: Ages 2-11 years
* Infants: Under 2 years
Saunas are included with all admissions.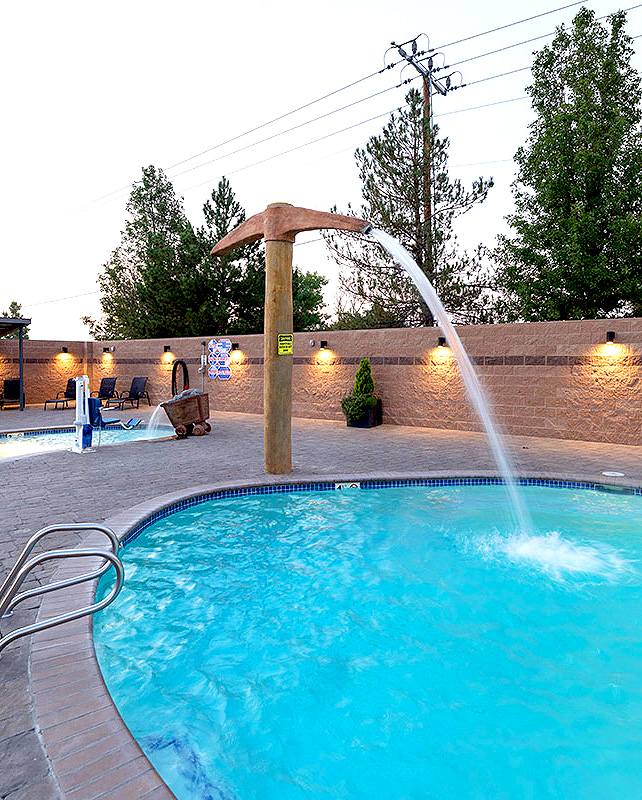 Safety Guidelines & Important Information
All guests must read and agree to our Waiver and Release at check-in.  Read the Waiver and Release here »
NO RESERVATIONS are taken for the private spa rooms, we offer a first-come-first-served basis. Walk-ins are encouraged and welcome.
We DO NOT allow alcohol or coolers at the hot springs. We ask that you please enjoy alcohol on site at the restaurant and brewery.
Common areas are for everyone to share. We cannot accommodate unannounced parties and celebrations that include balloons, decorations, music or food set up for an exclusive group. We apologize for any inconvenience or disappointment this policy may cause.
Absolutely no ball playing. No throwing of any pool toy or object.
Minors must be directly supervised by a parent or guardian at all times.
We reserve the right to close pools during business hours for cleaning and water conservation.

Open 8 AM – 9 PM daily, year-round
Phone:
775-885-8844
E-mail:
Staff@CarsonHotSprings.com
Physical Address:
1500 Old Hot Springs Road
Carson City, Nevada 89706